Numbers can, and do, scare so many people, so we are here to give you the confidence to embrace your numbers, put simple practices in place to make your business financial life easier and share stories from real life business owners so that you feel supported as you grow and become financially fit. We are sharing stories of business owners, the hurdles they have faced, and how they have come out the other side on their journey to becoming financially fit. Hosted by Stacey Price, founder and Owner of Healthy Business Finances. A self confessed, numbers nerd - loud and proud. An accountant, a business owner and someone who believes that education is the best form of self defence.
Episodes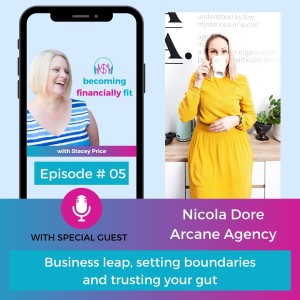 Thursday Oct 08, 2020
Thursday Oct 08, 2020
Today we are talking to Nicola Dore from Arcane Agency. Marketing professional and business trainer - basically she is your marketing secret weapon. And hell yes, who doesn't need that in their business life. 
Today we are chatting all things business leap, setting boundaries (and I am going to side with Nicola here and say this is definitely a work in progress for me both of us), to undertaking a full rebrand and jumping into a commercial lease as the business expanded.
We have a mixture of risk taking, trusting your gut, getting over some speed humps along the way to come full circle in business.